New York Art Fairs
Editor Mari Elliot
March 201
7
Erik Thor Sandberg - Short Supply
@Volta
Miami Art Fairs and Events 2016
Fondation Pierre Gianadda
Picasso exhibition June 18- November 20 2016
Portrait of Jacqueline on rocking chair with black scarf - 1954

NY Ceramic and Glass Fair
January 21-24, 2016
IFPDA
Park Avenue Amory, November 4-8 2015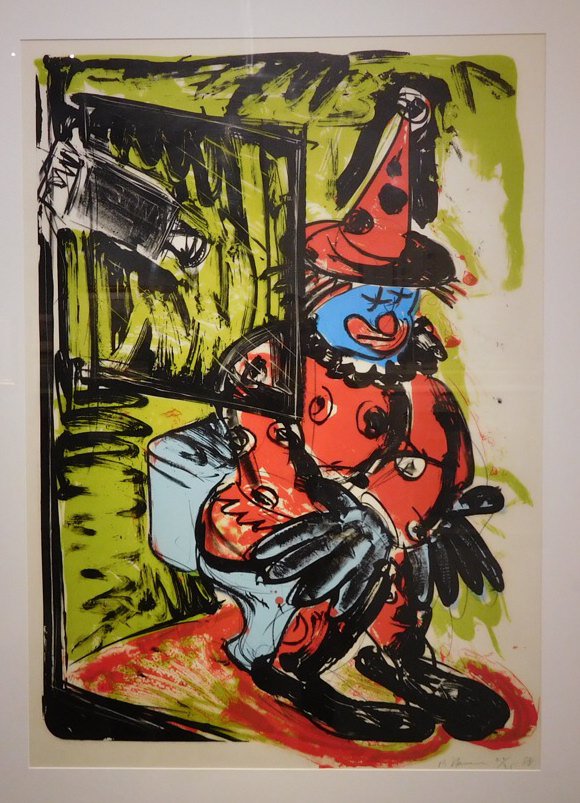 Bruce Nauman Clown, Brooke Alexander Gallery
Northside Festival - BrooklynJune 8 -14, 2015 AIPADApril 16-19, 2015
Jim Dow - Taco Truck El Pacas, Boyle Heights, Los Angeles, California 2008
Unalaskan Juvenile by Corey Arnold
Nympheas by Goldschmied and Chiari
IFPDA Print Fair - Park Avenue Armory
November 5-9, 2014
Toy Counter by Wayne Thiebaud Sims Reed Gallery
D-Train by Richard Estes Sims Reed Gallery
Pinned Ghosts by Jessica Stockholder Two Plams gallery
Architects of the Future by Chitra Ganesh at Durham Press
Affordable Art Fair
September 25, 2015
War Skull by JackyTsai
The Girl with Another View by Jane Ansell
Color Study - Tom Fruin
Mike Wiess Gallery
Mac Conner: A New York Life
Museum of the City of New York September 20, 2014
Elegant soiree with illustrator McCauley Conner, guests

gathered together on the beautiful outdoor courtyard and into the rotunda.
viewing hand painted illustrations,

advertising campaigns and women's magazines while sipping Conner's favorite cocktails.
McCauley Conner with friends
Jeff Koons Retrospective - Whitney Museum, June 24, 20014
Antiquity 3 by Jeff Koons
Curiator
App Launch Party May 1, 2014
Moenen Erbuer and Tobias Boonstoppel
Luke Murphy and Moenen Erbuer
Walter Robinson - artist
Artist Stan Hope and friend
Forms in Balance - Will Clift
Gerald Peters Gallery - Preview April 25, 2014
Will Clift constructing his Forms in Balance
Will Cilft with gallery patrons
Circular Form in Ten Pieces - hardwood, carbon fiber composite, steel
Curving Over - mahogany
Circling In - hardwood, carbon fiber composite, aluminum and nickel - silver alloy
AIPAD Show NY
Video Installation by Timothe Ustomicek
Photo by Danielle Nelson-Mourning
Murder by Raphael Dellaporta
Art Expo New York April 4-6, 2014
Italian artist Elisa Anfuso
Italian artist Marco Grassi
Italian artist Roberto Ferri
Alexis Silk
Kai Guetta - Now Royalty Preview at Lulu Labortorium Gallery Miami
Asia Week NY 2014
Vietnamese artist Pham Binh Chuong
Ko Kono leather sculpture
Scholars's Rocks
Searching Origin by Tian Fangfang
New York Art Shows March 2014
"Outside Time" Monumental Sculpture by Dimitar Lukanov
at JFK's International Terminal
World of Fairs
The colorful world of art at Art Basel Miami, art and celebrities, the established and the new merge in this dynamic fair filled with exciting energy. US Premeire of Nan Goldin, sculptures by Yayoi Kusama, Jeff Koons painted car, artist talks like Doug Aitken, Dara Birnbaum, Art market vs Art History. Films like Tango at the Edge of the Fair,Arabesque and Reanimation.
Fairchild Tropical Botanic Garden Brunch Faile Arcade Sagamore Hotel Brunch
Untitled Fair Pulse Fusion Scope Brazil Art Fair Design Miami ArtMiami Nada Context
Sklyar Fein
The Lincoln Bedroom
Davidoff Art Initiative
Interview:
M
ÓNICA FERRERAS DE LA MAZA